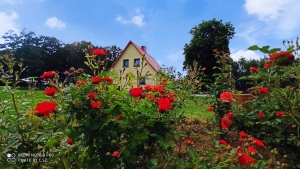 Stowarzyszenie "W ogrodzie Viadrusa"
Oldrzyszowice 94, 49-340 Lewin Brzeski
wogrodzieviadrusa@gmail.com
---
Stowarzyszenie powstało z inicjatywy małżeństwa, które połączyło zamiłowanie do przyrody, ekologii i wspólne pasje ogrodnicze. Głównym celem organizacji jest pomoc skrzywdzonym zwierzętom, głównie psom i kotom. Stowarzyszenie prowadzi dom – hospicjum dla zwierząt.  Swoje miejsce na ziemi znajdują tutaj zwierzęta stare, schorowane, u schyłku życia, często wyrwane ze szponów śmierci. Wszystkie potrzebują specjalnej opieki. W hospicjum oprócz "swojego kawałka podłogi" znajdują miłość, szacunek, opiekę oraz miękką kanapę, czyli wszystko to czego im potrzeba.
Ważnym elementem działalności Stowarzyszenia aktywność edukacyjna,  dlatego też na terenie organizacji prowadzone są warsztaty ekologiczne np. z wytwarzania własnych, naturalnych kosmetyków, destylacji olejków, prowadzenia winorośli starymi metodami itp.
Stowarzyszenie posiada młody sad ze starymi odmianami drzew, niewielkie pole lawendowe (ok. 150 szt.), winnicę oraz kawał działki na nowe pomysły.
A dlaczego "W ogrodzie Viadrusa" ? – tu głos oddajmy członkom Stowarzyszenia.
Pamiętamy powódź tysiąclecia z 1997 r., wiemy że nasza Odra od zawsze wydzierała ludziom to, co było niegdyś jej przynależne. Od paru lat mieszkamy w Oldrzyszowicach pod Lewinem Brzeskim, na samym skraju Doliny Nysy Kłodzkiej. Wedle dawnych legend bóg Odry to Viadrus, a jedną z jego córek jest właśnie Nysa Kłodzka. Mieszkając zatem w widłach dwóch rzek, które rozgniewane poczynaniami ludzi nie raz karały i wzbudzały pokorę u mieszkańców wsi i miast wzdłuż ich brzegu, nadaliśmy naszemu ogrodowi imię boga naszej wielkiej i pięknej Odry. Pokładamy nadzieję w wierze, że Viadrus będzie miał nas pod swoją opieką, a rozgniewane rzeki, tocząc swoje fale i rozlewając szeroko wody, by ponownie skarcić człowieka, ominą nasz dom.
Działalność organizacji można śledzić na
PROFILU
na Facebooku.
Ręcznie robione mydła glicerynowe wykonywane podczas warsztatów mydlarskich lub jako produkt regionalny
Lawenda z viadrusowego pola
Viadrusowa winnica
Viadrusowa ferajna – galeria zdjęć

Warsztaty